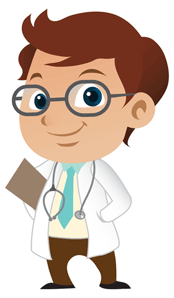 Getting a vasectomy can be a little daunting. We know that you take that part of your body very seriously!
However, we're confident that the more you know about this procedure, the better you'll feel about your vasectomy. Most often, patients are concerned about the pain involved in a vasectomy procedure as well as having a healthy, functional sex life afterwards. Don't worry. We've assembled a list of facts to help you learn all about the vasectomy recovery process – from day 1 through the first month.
Day 1 – Post Vasectomy Recovery
The vasectomy procedure lasts anywhere from 10-30 minutes.
Patients wake up a bit sleepy from the anesthesia.
A bag of frozen peas or ice should be placed on the testicles to help with recovery.
You may feel an ache in your testicles which is treated with pain medicine.
You will need to have a ride home.
It is recommended that vasectomy patients abstain from sex for 7 days.
Rest for 24 hours after the procedure.
While pain tolerance varies from person to person, the pain following a vasectomy is generally a mild discomfort as long as instructions are followed. Avoid heavy lifting and strenuous exercise, take pain medication when necessary and ice the region to speed up recovery time. It is generally agreed that a vasectomy is less painful than getting a tattoo. Most patients only need aspirin to feel comfortable.
Week 1 – Post Vasectomy

You may return to work within 2 or 3 days.
Heavy physical activity should be avoided for several days after the procedure.
Normal physical activity can resume within 5-7 days.
Some minor swelling, bruising and discomfort may linger throughout the 1st week.
You may temporarily experience mild discomfort when sexually aroused.
Month 3 – Post Vasectomy
A semen analysis will be performed post vasectomy to test for active sperm.
If there is no active sperm, the vasectomy is a success!
If there is active sperm, a follow up test will be conducted.
Note: You must use contraceptives until your semen has been tested and is free of sperm. A vasectomy does not protect against STDs.